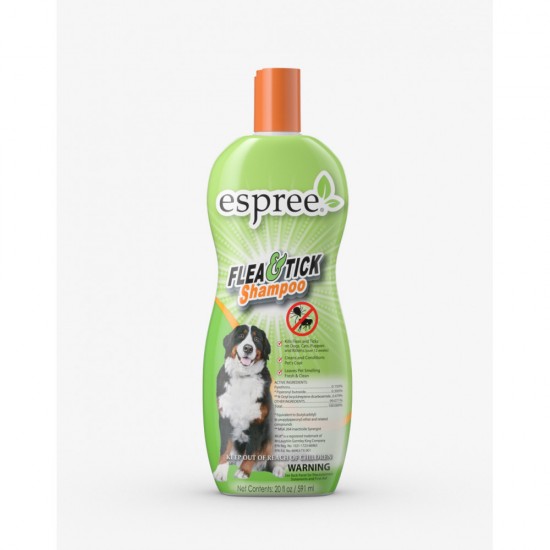 Out Of Stock
Espree , Shampoo Dog & Cat (Against Fleas & Ticks) - 355 ml
Stock:

Out Of Stock

Brand: Espree
Product Details :
A product that eliminates fleas and ticks on dogs and cats, cleans and conditions pets' coats, and makes pets smell fresh and clean.
Usage Information:
Use on dogs and cats over 12 weeks of age to control fleas and ticks.
It is used once every 7 days.
who are less than 12 weeks old.
Consult a veterinarian before using this product on exhausted, elderly, or nursing animals.
Some products may be that when using pesticide products for pets, signs of allergy have appeared, wash your pet with gentle soap and rinse with plenty of water.
If the signs are, consult a veterinarian.
How To Use The Product :
Wet the animal's fur with warm water for 2-3 minutes.
Apply the shampoo to the head and ears and lather, then repeat the process on the neck, chest, middle and back, finishing last on the legs paying special attention to the footrests (between the toes) and the lower body area.
Wash the head and ear areas carefully, making sure to keep the shampoo away from the animal's eyes.
Putting a drop of glycerin in each eye before bathing may prevent or reduce irritation if the shampoo gets into the animal's eyes.
Pay special attention to the base of the tail, it is a place frequented by fleas. Lather the entire animal and let the foam sit for 5 minutes before rinsing it well with water.
This will also allow the dying fleas and ticks to crawl from the animal to the towel before drying the animal with a towel or hair dryer.